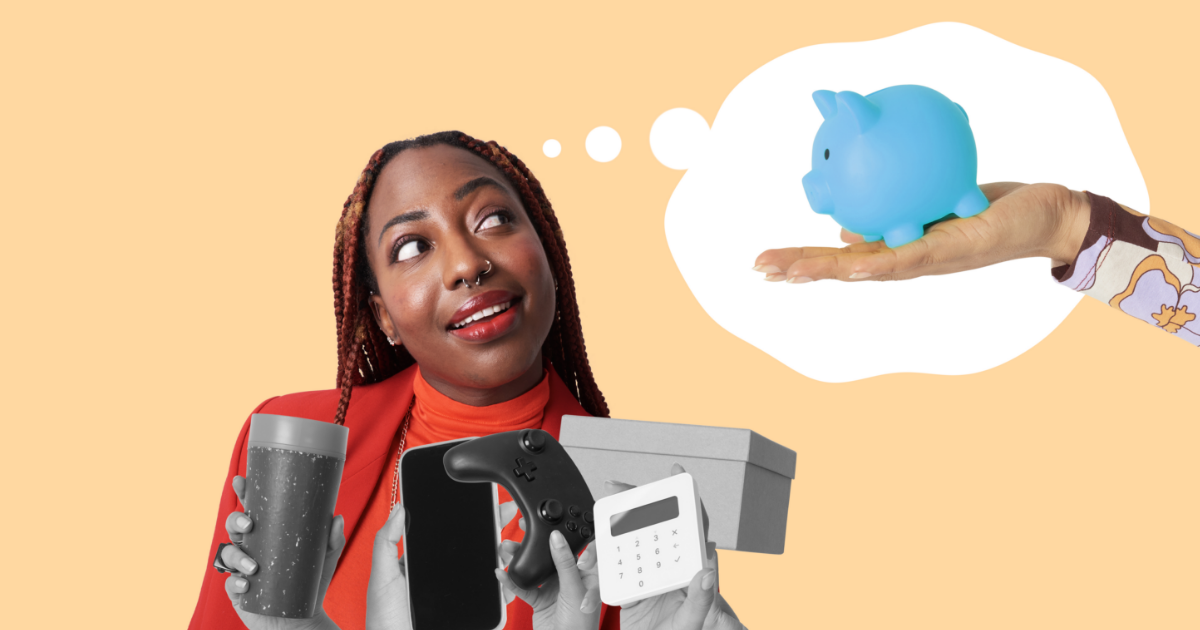 Saving for your future is an important part of a healthy financial plan. Without a doubt, a day will come when a rainy day fund7 is needed. Just like a squirrel needs to save acorns for the winter, saving a few bucks in case of a tough financial spot is an imperative step in your personal financial journey. So how do you start? In just a few easy steps, you can create a savings plan for your future that works for your goals, your budget, and your lifestyle.
How to Set Money Aside for Savings
You're just getting started, so be gentle with yourself and your progress. Do what you can, and each month do a little bit better. Lay out your plans and let a friend or family member know about your goals as you create them. You can do this!
Create a Monthly Savings Plan
Once you make the decision to start saving for the future, you will need a monthly savings plan to help keep you on track. Creating a budget does not need to be complicated. If you feel stuck check out the CheckSmart three step guide to building a basic budget.6 Essentially, you need to take a look at your finances, keep track of your spending and expenses, and make sure you work on a plan for saving for the future. You can create a savings account that is for any and all rainy-day needs, or you can set up funds1 for different "unexpected" expenses such as car repairs, medical bills, or home maintenance. Keep in mind miscellaneous expenses will pop up from time to time that require a financial solution. While you're working to create a savings account, CheckSmart is here to help if you meet a roadblock and do not yet have funds saved to power through. Applying is simple, and CheckSmart offers various loan options that could offer a solution quickly once you've received approval. Undoubtedly, however, your best course of action is to plan ahead and create a savings account that is healthy enough to cover the unexpected expenses or fluctuations in monthly expenses that pop up from time to time. If you're just getting started, rest assured you're in good company. According to Bankrate and their yearly reporting on American's saving habits, 57% of Americans8 do not feel confident or comfortable with their savings. Dedication to being a part of the other 43% who feel more secure with their savings will take a little planning and budgeting as well as a clear vision of your goals.
Set a Few Financial Goals
As you work to set aside money each month, per your freshly made budget plan, you will want to keep your financial goals in mind. You might want to save up for more than emergencies! Although setting up a rainy-day fund is important, you can also plan ahead for retirement and large purchases. Perhaps you're new to financial goal setting. No problem! Here are a few ideas to get you started, but keep in mind that your goals for your financial future, just like goals in any other area of your life, are personal. Take a little time to think through what you need and want to accomplish and set your goals accordingly. You may also want to consider any debts you have while setting goals. Perhaps you will want to knock out debt as soon as you've saved say $500 for emergencies. Then you can build your emergency fund up to $1000 and beyond after taking time to focus on paying off your debt. Debt can quickly wreck savings plans,4 particularly if the debt carries a high interest. Prioritize your debt repayment9 so you can focus on your bigger goals.
Examples of financial goals:
$1000 savings fund
Maintenance Money:5 Car and home repairs10 can add up quickly.
Major Purchases: Saving money for a downpayment on a car, a new place to live, or appliances and furniture that are nearing replacement is a great idea.
Medical Expenses: Co-pays, travel to specialists, dental work, and medications can put a strain on your finances if you do not have reserves to help handle the costs.
Retirement: Start saving for retirement3 as early as possible and be sure to take advantage of any retirement benefits or savings plans available through the company you work for.
Of course, there are other things you may want to save for like vacations or back-to-school clothes for the kiddos. Think through your goals in life as well as the financial aspect of each goal, milestone, and upcoming events.
Start Your Saving Centric Lifestyle
When you start saving towards your goals, you might feel the strain on your spending, and it might not feel very fun. One of the perks of adulthood is to have the power to do what you want (for the most part) when you want. The less fun part of adulthood is prioritizing your goals and obligations over your desires. When considering a non-essential purchase that would cut into the amount you plan to save for the month, utilize the 30 day rule2 and take a little pause. If you still want something after putting the purchase on hold for a set amount of time such as 30 days, you may find it's worth it! If you find that your new dedication to saving for the future is putting too big of a cramp in your style, you might consider picking up a side hustle.5 Use the money earned to fund what my mom always called "popsicle money" which was her cute way of saying money to buy what you want but do not need. The fun stuff.
Make a Commitment to Saving
When you start your savings journey, it can feel overwhelming. But taking the smallest little steps towards your goals is progress! You can rewrite your financial story by making a commitment to your future and your finances. Save every penny you can and make it as fun as possible along the way. Future you will thank you!
Sources:
1Shaji, Rajith (2022, Mar 29). 10 Ways to Effectively Save For the Future Retrieved from: https://www.entrepreneur.com/en-in/news-and-trends/10-ways-to-effectively-save-for-the-future/423319
2Neidel, Courtney (2023, May 1). How to Save Money Now (Before You Really Need It) Retrieved from:  https://www.nerdwallet.com/article/finance/how-to-save-money
3Tina Orem and June Sham (2023, Mar 30). 5 Steps to Retirement Planning in 2023: An Introduction & How-to Guide Retrieved from: https://www.nerdwallet.com/article/investing/retirement-planning-an-introduction
4Lockert, Melanie (2023, Jul 17). 7 steps to start saving money: A comprehensive guide to saving, budgeting, and investing for a better future Retrieved from: https://fortune.com/recommends/banking/how-to-save-money/
5Honeycutt, Bonnie (2022 Oct 25). How to Save Money Fast Retrieved from: https://www.forbes.com/advisor/banking/savings/how-to-save-money-fast/
6Price, Jessica (2023, Jun 12). Building a Budget in Three Easy Steps Retrieved from: https://www.checksmart.com/blog/savvy-saver/build-a-budget/
7Price, Jessica (2023, May 5). Rainy Day Funds for Unexpected Emergencies Retrieved from: https://www.checksmart.com/blog/savvy-saver/building-rainy-day-funds/
8Gillespie, Lane (2023, Jun 22). Bankrate's 2023 Annual Emergency Savings Report Retrieved from: https://www.bankrate.com/banking/savings/emergency-savings-report/#key-stats
9Price, Jessica (2023, Apr 18). Prioritize Debt Repayment Retrieved from: https://www.checksmart.com/blog/prioritize-debt-repayment/
10Price, Jessica (2023, Jun 12). Preventative Home Maintenance Guide Retrieved from: https://www.checksmart.com/blog/savvy-saver/home-maintenance-tips/
Jessica is hyper-focused on making information about the Personal Loans offered by CheckSmart including Payday Loans, Installment Loans, Line of Credit, and Title Loans accessible and easy to understand. Learning the basics about finances shouldn't be complicated after all! The key to responsible borrowing is understanding the loans you're considering, and it's Jessica's mission to help anyone considering a loan make an informed decision. Jessica is passionate about sharing easy-to-follow Budgeting Tips and helping readers increase their financial literacy in the Financial Corner of the blog. You'll find great budgeting tips, Simplified Savings tips, and information that will help you improve your financial wellness sprinkled throughout each of her blogs.