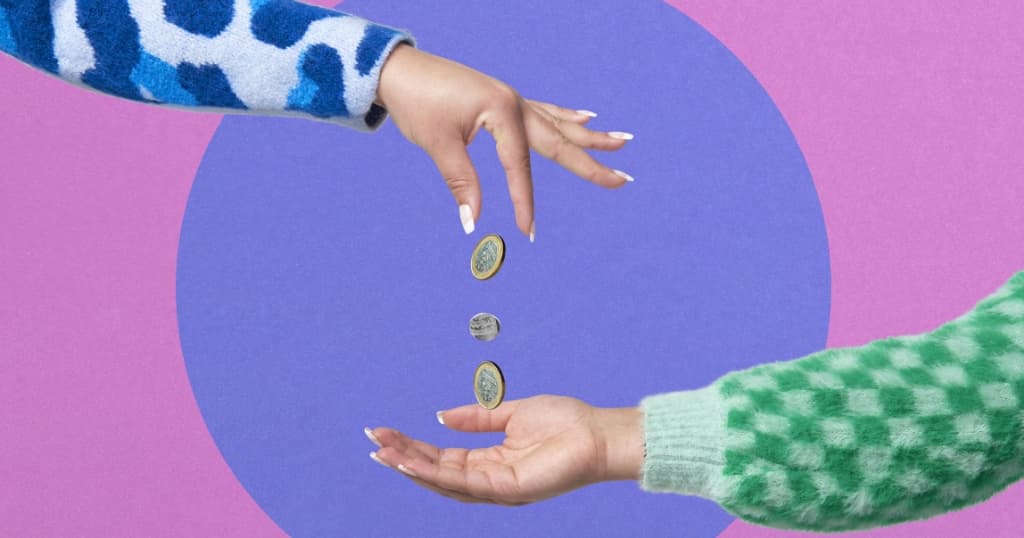 Let's Talk About Short-Term Lending
Cash can be hard to find when you need it most, and saving money is incredibly difficult when you're barely scraping by. In fact, 56% of Americans5 are not able to simply dip into their savings to pay for an emergency with a $1,000 price tag. So, what do you do when your savings account is not going to cover the expense at hand, and you need access to cash quickly?
Unfortunately, people face impossibly difficult financial choices every day. For many people, a loan from a lender like CheckSmart makes sense. If borrowing from family, friends, or another source that will provide a low (or zero cost) loan is available, perhaps consider those options first. We always encourage our customers to keep in mind that Payday Loans, also known as Payroll Advance Loans, are considered an expensive form of credit.1 Similarly, Installment Loans and Title Loans are expensive forms of credit. However, for millions of Americans there are few options when non-negotiable cost arise and funds aren't readily available to cover it. Likewise, keep in mind, there is a high cost also associated with credit card interest, overdraft fees, and facing late fees for skipping a bill payment. It's hard to save money for unexpected medical emergencies or vehicle repairs when the budget each month is tight and inflexible down to the last dollar. Rising costs of food, housing, and transportation coupled with wages that flat out aren't keeping up7 have created cycles of living on the financial edge between paychecks for many Americans.
We'll be frank with you, there are many critics out there who fail to see that Payday Loans, Title Loans, and Installment Loans fill a much larger gap than they'd like to imagine. William Isaac, a former chairman of the FDIC, shared his thoughts on the importance of loan options like Payday Loans6 in an article written for American Banker. He states, "The truth is that millions of customers have a very favorable experience with the short-term lending product, and we should be careful not to disrupt this important lifeline."6 Mr. Isaac discusses, in his article, that payday lending is a highly regulated industry and that lenders who are unwilling to adhere to the strict, ethical guidelines set forth for short-term lending, in short, should not be in business. Fortunately, there are great lenders available working hard to provide exceptional loan products to customers who truly need them.
CheckSmart Lending Pros Have You Covered
CheckSmart is a lending company you can count on to adhere to all guidelines set forth on a national and state level. We work hard to provide various loan products and the best customer service available in the industry. We have teams of Lending Pros at CheckSmart who are available to help you review your options and choose the lending avenue that is best suited to your situation. We call the right loan for you, your SmartMatch. Doing your research is important as well as planning for repayment. When you have a plan, knowing that the loan you choose is the right one for you, and that you're working with a great team like CheckSmart Lending Pros, you are setting yourself up for success as a borrower.
If you've done your research and determined that the lending options at CheckSmart are right for you, consider the loan types currently offered in our stores prior to connecting with a Lending Pro.
Loans Offered by CheckSmart
CheckSmart offers various loans depending on the location of the store. There are different rules and offers depending on the state in which the store is located. To find out which loans are offered in your state click here.
Payday Loans
Payday can feel very far away when your budget is dwindling and there are items left on your to-do list. If you find yourself in a situation needing a little extra cash before your next paycheck, a Payday Loan from CheckSmart could be an excellent option. Payday Loans are sometimes called Payroll Advance Loans and may provide needed funds to customers who need a little help before payday. Our Lending Pros can help you apply and walk you through the approval process. Bring the following with you to the CheckSmart store when you're ready to apply:
 An Active Bank Account
 Government-Issued Photo ID
Proof of Income
Most Recent Bank Statements
Checking Account and Bank Routing Numbers
Social Security Number/ITIN
If approved, you will receive funds quickly3 and your loan will be due (plus fees and interest) on or around the date of your next payday. Payday Loans may be a helpful, short-term solution4 for a great number of people on a daily basis.  CheckSmart offers Payday Loans in Kentucky, Indiana, and Michigan.
Installment Loans
Some financial hurdles require a bit more funding than others. Installment Loans are a great option when you need a larger sum of money to complete a bigger ticket financial move. Many of our customers use Installment Loans to complete larger projects like auto repairs or necessary home repairs. We also have customers who use these loans to pay for necessary medical expenses and associated travel. To apply for an Installment Loan at CheckSmart, you will need the following:
Current AZ vehicle registration
An Active Bank Account
Government-Issued Photo ID
Proof of Income
Most Recent Bank Statements
Checking Account and Bank Routing Numbers
Social Security Number/ITIN
If approved, you will receive your funds, typically, as a direct deposit into your bank account and you are able to spend the money as you wish. One of the perks of utilizing an Installment Loan from CheckSmart is that you direct how funds are spent. You'll make payments according to your Installment Loan agreement over time. CheckSmart offers Installment Loans in Arizona.
Title Loans
Title loans are a great option for customers who need a larger loan amount. Title Loans require a clear Title to an approved vehicle. To obtain this loan, you'll need to bring your title and vehicle into the nearest CheckSmart location for an evaluation. You'll fill out an application and provide the following:
Valid Government Issued ID and Social Security Number
Bank Statements/Proof of Income
Checking Account and Routing Numbers
Once approved, you'll be able to keep your car and receive funding from your loan. Your title will be returned to you once you've finished repaying your loan. Always make your Title Loan payments on time. This is very important because defaulting on your loan could result in a vehicle repossession2 . Keeping an open line of communication with your Lending Pro throughout the loan process is very important. If you anticipate any issues with your scheduled payment, speaking with your Lending Pro well before your due date can be beneficial as they may be able to provide options. CheckSmart offers Title Loans in Arizona.
Better Borrowing
Utilizing lending options like those offered at CheckSmart can prove extremely beneficial in certain situations. We encourage our customers to do their research and understand the process because that paves the way to making a Smart Choice. We strive to provide excellent resources for anyone considering a short-term loan or personal loan from a lender like CheckSmart prior to applying. Understanding your loan options and the way the loans work is the first step to successfully borrowing and repaying the loan without any unnecessary stress or inconvenience. We are on a mission to help people who need us when a financial burden is in their path without many options for solving the problem. In those circumstances, CheckSmart is an option, and we will work hard to provide financial solutions to those who need it the most.
Sources:
1Pino, Ivana. (2022, December 7). What is a payday loan? What you might use one for and when to avoid them Retrieved from: https://fortune.com/recommends/loans/what-is-a-payday-loan/
2Price, Jessica (2022, September 21). Is a Title Loan Right for Me? Retrieved from: https://www.speedycash.com/resources/622/loans/is-a-title-loan-right-for-me/
3VanOverloop, Michelle (2022, July 6). Cash Advance vs Payday Loans: What is the Difference? Retrieved from: https://www.speedycash.com/resources/573/loans/cash-advance-vs-payday-loans-what-is-the-difference/
4Price, Jessica (2022, October 17). What to Consider Before Applying for a Payday Loan Retrieved from: https://www.speedycash.com/resources/644/loans/what-to-consider-before-applying-for-a-payday-loan/
5Reinicke, Carmen (2022, January 19). 56% of Americans can't cover a $1,000 emergency expense with savings Retrieved from: https://www.cnbc.com/2022/01/19/56percent-of-americans-cant-cover-a-1000-emergency-expense-with-savings.html
6Isaac, William (2013, August 13). BankThink Why Payday Loans are Good for Millions of People Retrieved from: https://www.americanbanker.com/opinion/why-payday-loans-are-good-for-millions-of-people
7Lee, Juhohn (2022, July 19). Why American Wages haven't grown despite increases in productivity Retrieved from: https://www.cnbc.com/2022/07/19/heres-how-labor-dynamism-affects-wage-growth-in-america.html#:~:text=Wages%20in%20the%20U.S.%20have,times%20as%20fast%20at%2061.8%25.  
Jessica is hyper-focused on making information about the Personal Loans offered by CheckSmart including Payday Loans, Installment Loans, Line of Credit, and Title Loans accessible and easy to understand. Learning the basics about finances shouldn't be complicated after all! The key to responsible borrowing is understanding the loans you're considering, and it's Jessica's mission to help anyone considering a loan make an informed decision. Jessica is passionate about sharing easy-to-follow Budgeting Tips and helping readers increase their financial literacy in the Financial Corner of the blog. You'll find great budgeting tips, Simplified Savings tips, and information that will help you improve your financial wellness sprinkled throughout each of her blogs.