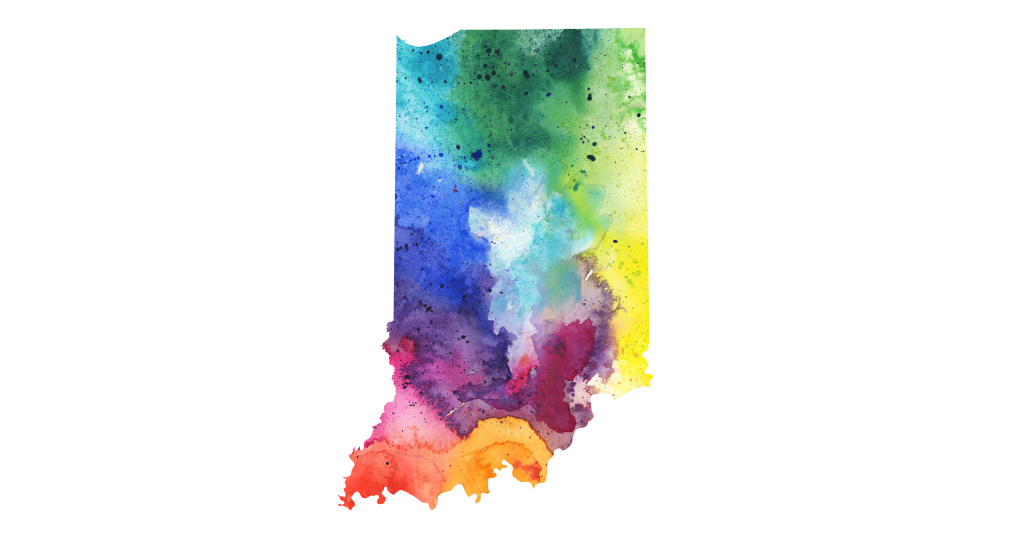 When you think of Indiana, perhaps you think about a state leading the nation in corn production, the Indy 500, or maybe even basketball, but there's more to the Hoosier state than top tier agricultural production and sports. Most people know that the people of Indiana are known as Hoosiers, but there are varying reports regarding how that unique and memorable nickname came about. Some reports dating back to the 1830s even use the word "Hoosher" vs Hoosiers. No matter when or how the term became commonly accepted, today people from Indiana proudly call themselves Hoosiers and the meaning (although also debated) is likely a nod towards the fearless, adventurous spirits of early Indiana settlers.4 That adventurous spirit, a spirit of ingenuity and connection to the land lives on in the people who call Indiana home.
At Home in the Hoosier State
While "all of those things are a big part of what makes [Indiana] unique," according to John Wulf, Director of Marketing Services at Community Choice Financial, there's more to the story. People are the key to any great story, and "folks from Indiana are very down home" in the best ways. Memories for people from Indiana are filled with friends, family, and a deeply rooted love for the land best expressed by the Indiana state poem written by Arthur Franklin Mapes an excerpt from which is below:4
Indiana
I must walk where squirrels scamper
Down a rustic old rail fence,
Where a choir of birds is singing
In the woodland … green and dense.
I must learn more of my homeland
For it's paradise to me,
There's no haven quite as peaceful,
There's no place I'd rather be.
Indiana … is a garden
Where the seeds of peace have grown,
Where each tree, and vine, and flower
Has a beauty … all its own.
John's fond memories of growing up in a farm community in Indiana included cookouts, watching the Indy 500 (and listening to it on the radio live before it was televised), and running through those famed corn fields as a kid. According to John, the people in Indiana are "welcoming and have never met a stranger" which sums up the attitude of the people in Indiana fairly well.
Moving to Indiana
So, what draws people to Indiana today? Many of the same values that run deep in the communities of Indiana inspire people to make Indiana their home, but a low cost of living is another draw5 that makes people look to Indiana when relocating. Indiana is an exceptional place to put down roots if you're in the agricultural business. The state boasts leader board worthy production numbers6 for various products including corn, soybeans, meat, poultry, eggs, dairy products, popcorn, and hardwood products to name a few. The state is a bustling hub for production making it a great place to live if you're interested in agribusiness of various sorts. For those who are seeking a more urban lifestyle, Indianapolis provides access to endless entertainment, job opportunities, and unique offerings like the Indianapolis Cultural Trail.7 Living in Indianapolis is a great option for anyone seeking a lower cost, metropolitan experience.
Sports in Indiana
No doubt, when people think of Indiana, a hub for sports fans comes to mind. Both the NFL and the NBA are represented in Indiana by the Colts and the Pacers.8 The WNBA, also has a team in Indiana, the Indiana Fever.8 Sports fans can also cheer on minor league baseball, hockey, and even collegiate teams. Perhaps the most famous sporting event to take place in the Hoosier state, however, is the Indianapolis 500 aka the Indy 500 which is a 500 mile race that takes place in Indianapolis at the Indianapolis Motor Speedway and dates back to 1911.9 For more than 100 years, the Indy 500 has delighted fans and been a pinnacle to the careers of drivers who uniquely celebrate a win by drinking and then drenching themselves in a bottle of milk.10 It's a spectacle that is not to be missed, and anyone who loves watching racing can appreciate the dedication and skill necessary to win such a race. The adrenaline, the cars, the stories learned about drivers and how hard they've worked to make their dreams a reality. Similar to the dreams made true by the pioneers who settled the land not just in Indiana but in America, hard work and focus make anything possible.
Racing to Payday?
Sometimes, pay day feels more than 500 miles away. Getting back on track can feel impossible when you have less than perfect credit and few options for covering expenses that can't wait. Choosing to work with an online lender like CheckSmart to apply for a Payday Loan in Indiana could be the solution you're looking for. CheckSmart has perfected the process to help you find your SmartMatch loan before applying. Once you've chosen the loan that is right for you, applying is a simple process and a decision is made quickly. Once approved, funding takes place swiftly to help you get back on track as quickly as possible after an unexpected financial situation arises.
Payday Loans are short-term loans that can help you cover unplanned expenses in a pinch. Payday Loans are typically paid back when you receive your next paycheck.2 It's important to do your research prior to applying for a Payday Loan to ensure you understand the terms and to assess whether it is feasible for you to pay back the loan on time.3 A great place to start is by creating a budget which will help you determine how much of a payment you can afford monthly to pay back your borrowed amount. When searching for an online Payday Loan in Indiana, CheckSmart is a great place to start because you can depend on our team to provide exceptional service. The application process is easy to follow with transparency of Rates & Terms readily available. If you are not in need of a Payday Loan, we also have in-store services like Check Cashing and Money Orders. Our team is standing by and always ready to help. 
Sources:
1Leins, Casey (2019, Jul 11). 10 Things to Know About Indiana Retrieved from: https://www.usnews.com/news/best-states/articles/2019-07-11/10-things-to-know-about-indiana#:~:text=Indiana%2C%20known%20for%20its%20love,U.S.%20in%20manufacturing%20job%20growth
2Veling, Jackie (2023, Apr 6). What is a Payday Loan? Retrieved from: https://www.nerdwallet.com/article/loans/personal-loans/what-is-a-payday-loan
3Luthi, Ben (2019, Jan 3). What Is a Payday Loan and How Does It Work? Retrieved from: https://www.experian.com/blogs/ask-experian/how-payday-loans-work/
4Indiana Historical Society Website Retrieved from: https://indianahistory.org/education/education-resources/educator-resources/fun-facts/
5Allen, Nafeesha (2022, Sept 26). Learn the Major Pros and Cons Of Moving To Each State Retrieved from: https://www.forbes.com/home-improvement/features/pros-cons-of-each-state/#indiana_section
6in.gov Indiana Agriculture Brochure Retrieved from: https://www.in.gov/isda/files/Brochure_Indiana-agriculture-small.pdf  
7Nosler, Shauna Indianapolis, Indiana Retrieved from: https://realestate.usnews.com/places/indiana/indianapolis
8Wikipedia.com Sports in Indianapolis Retrieved from: https://en.wikipedia.org/wiki/Sports_in_Indianapolis
9Wikipedia.com Indianapolis 500 Retrieved from: https://en.wikipedia.org/wiki/Indianapolis_500
10Davidson, Donald (2020, May 12). Indy 500 Traditions: Fan Favorite Milk Chug was an Accident Retrieved from: https://www.indianapolismotorspeedway.com/news-multimedia/news/2020/05/12/indy-500-milk-tradition-was-an-accident-louis-meyer
Jessica is hyper-focused on making information about the Personal Loans offered by CheckSmart including Payday Loans, Installment Loans, Line of Credit, and Title Loans accessible and easy to understand. Learning the basics about finances shouldn't be complicated after all! The key to responsible borrowing is understanding the loans you're considering, and it's Jessica's mission to help anyone considering a loan make an informed decision. Jessica is passionate about sharing easy-to-follow Budgeting Tips and helping readers increase their financial literacy in the Financial Corner of the blog. You'll find great budgeting tips, Simplified Savings tips, and information that will help you improve your financial wellness sprinkled throughout each of her blogs.