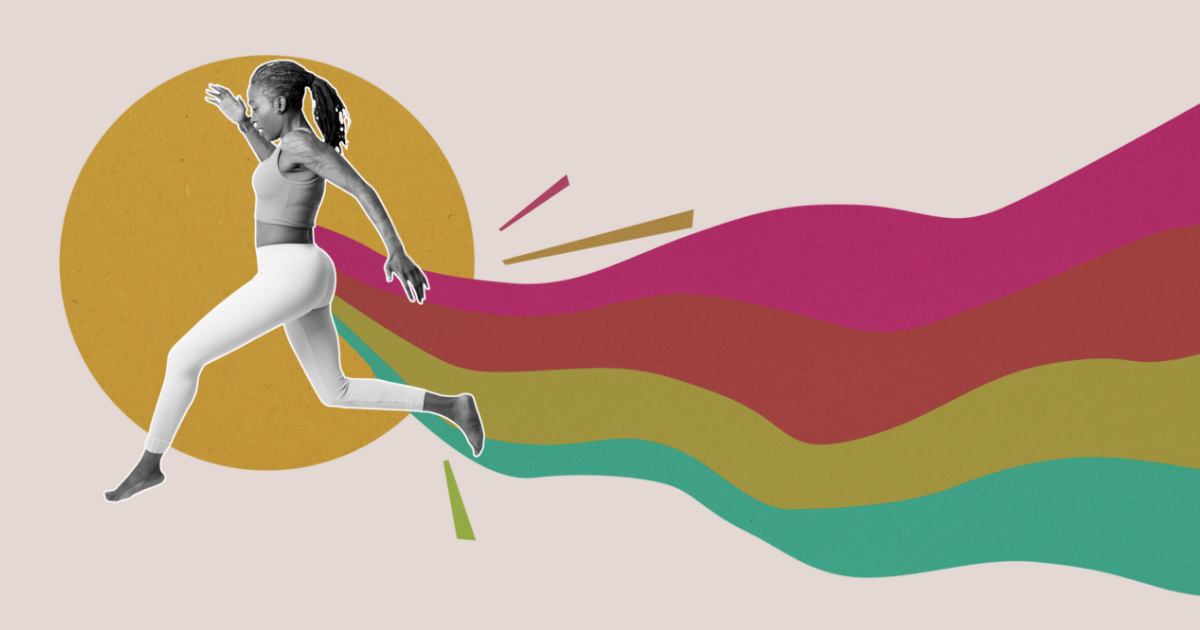 Getting into shape when you're feeling less than fit is an admirable goal, and luckily you do not have to spend a ton of money in the process. Eating simple, healthy meals and moving your body regularly will typically do the trick. Luckily, there are various ways to improve your health and stay fit that are free. Getting started is the hardest part for most people—I have my hand raised high. Trust me, the time to start is always now. You can let the past go and make a commitment to your future. Perhaps your summer workout plan didn't go quite as planned; where does the time go? Don't fret! In these last few weeks of sunshine and fun you can work in a few free or low-cost habits that will carry you into fall and help keep you on track to your goals. Whether you chose to utilize an app1 to track your progress and find workout inspiration or you set and develop running or walking goals, you can implement healthy new choices one day at a time.
Set a Fitness Goal
Summer weight loss, fall weight loss, heck any weight loss at all is admirable and completely possible as you work in a few new goals and habits. First, let's talk about goals. It's important to assess what you need or want to accomplish before embarking on a new fitness routine. Losing weight might not be your focus. Perhaps, like me, you notice that although there are a few pounds to shed, your goals are more centered around health and wellness. My personal goal, for example, is to feel a little happier in my skin and to stop breathing so heavily when walking up the stairs. Seeing your doctor and receiving a good bill of health and asking which areas might need improvement is a great place to start. Prior to starting any new eating habits or exercise, a doctor giving you the ok, plus any parameters for your health and safety, is a great idea. Once you're cleared for takeoff, decide what you want to accomplish and set a deadline. Some people enjoy signing up for races (which can be walked or ran) to help move them toward their ultimate goal of being healthier. Many people also choose a weight that falls within the healthy range for their age and height as suggested by their doctor. The most sustainable way to improve your fitness level is to start small and choose habits that you want to implement. For example, you can decide to make sure you drink all of your water and move your body for at least ten minutes a day for two weeks. Then you can reassess and add new goals. You do not have to turn into an athlete overnight. Movement in the right direction, of any kind, is celebration worthy!
Low-Cost Exercise Options
Working out and eating well can be a challenge, but in this digital age there are tons of apps and programs that can help you keep on track. Many of these apps are free to use (at least to start) and if you're willing to put up with periodic ads, you can typically find an option that works with your goals without requiring a subscription. However, tracking your progress the old-fashioned way with a journal or notebook can be just as effective. Keeping track will help you see your progress week by week, which can be a big motivator for many people. I suggest tracking your progress because it also adds a bit of accountability.
So, what should you do for exercise? Running and walking are tried and true, completely free options that can kickstart a new fit lifestyle. If you're looking for a fun, unique way to switch up your workout options,2 a jar filled with options that you draw from daily is a cool idea. Simply write down a week or months' worth of workout options—think walking, biking, hiking, ab/core workouts, body weight workouts, and low impact options like yoga flows which can be done from home for free. Each time you've scheduled a workout (ideally every day), pull a slip of paper from the jar and complete the workout. Speaking of body weight workouts,3 you can engage your muscles and increase strength with short circuits that include exercises like glute bridges, lunges, sit-ups, or any other body weight workout you choose. Pick a few to rotate over the course of your workout.
Eat and Drink but Be Well
Before the sun sets on sweet summertime, take a look at your eating habits and ways you can work in healthy summer meals on a budget. Continuing your commitment to your budget is important even when you're working on making better food choices. It's tempting to jump online to find elaborate, healthy meals to plan and prepare when you're working towards a goal. However, it's not necessary to splurge on costly pre-packaged health foods or large spreads. You can create simple, low-cost meals at home by simply focusing on the ingredients you're working with and cutting down your portion sizes. Working in more veggies is a great place to start, as well as swapping out your current proteins for leaner cuts or choices. For example, beans are a fantastic, low-cost source of protein and a summertime bean salad recipe could quickly become a year-round family favorite. Spice up old recipes, swap in a few more healthy ingredients, and most of all have fun. Don't forget that calories we drink can add up quickly as well. Perhaps you've indulged in a few too many cocktails or summer mocktails. Low sugar options aren't enough to keep you on track when you're drinking more calories on a hot afternoon than you would typically consume in a full meal. Opt for low-calorie options like this spicy Turmeric Tonic6 that combines the health benefits of turmeric and cayenne with refreshing, summery citrus. Get creative and find ways to stay cool and hydrated without adding too much sugar or too many calories. Adding mint, lemon, and other fruits to your water is a low-cost way to quench your thirst and boost your health with needed nutrients.
Spice up your salad routine with new, fun options the whole family will enjoy. The key is to allow yourself to get creative. Try new things, see what happens! I like to take a recipe such as this California Grain Salad5 and then swap ingredients I love for those I don't enjoy as much. I'm dairy free so opting for vegan or dairy free versions of cheese when a recipe calls for it is an easy switch. Likewise, you can always modify recipes to fit your taste and your budget. Trying new things is fun, so make your health journey more enjoyable by rotating in a few new recipes a month. In no time at all, you'll have staples and favorites that are a bit lighter and healthier than you did when you started. Make a meal plan4 each week to help you stay on track and within budget, and remember that with one meal, one day, and one choice at a time you can reach your goals!
Fun and Fitness Go Hand-In-Hand
Summer health tips, just like health tips you seek out during any season, should be taken with a grain of salt. You know your body, and in conjunction with your doctor you can make a plan that fits your individual needs. Creating a health and fitness routine is a great step, but the first step is to appreciate all your body does for you in this moment. Thank your body for waking up each day and treat your body with love and respect. That will make a huge difference.
The second most important part of any fitness routine overhaul—after making your health and wellness the real priority—is to make it fun. Take your time when planning out your goals, your plan, your meals, and your days for that matter. A calm, steady, slow approach to health and wellness will likely prove more long-lasting and sustainable. The fact that you want to take action and improve your health speaks volumes to your intention to take care of the body you've been given. And that's amazing.
Of course, fitness extends beyond our bodies too. Mental and emotional wellness, healthy relationships, and financial fitness are all a part of a balanced life. It's hard to do it all, but step by step, mountains are climbed and goals are conquered. If you're facing a particularly challenging financial season, know that CheckSmart is here to help you on your way to brighter, healthier days. Find out which loan options and services are available in your area, and rest easy knowing you're in good hands when you trust CheckSmart with your financial services and quick loan needs. Applying is simple. When you're in a pinch, simple processes make things a bit less stressful. No doubt, financial fitness that will match your physically fit lifestyle is just around the corner.
Jessica is hyper-focused on making information about the Personal Loans offered by CheckSmart including Payday Loans, Installment Loans, Line of Credit, and Title Loans accessible and easy to understand. Learning the basics about finances shouldn't be complicated after all! The key to responsible borrowing is understanding the loans you're considering, and it's Jessica's mission to help anyone considering a loan make an informed decision. Jessica is passionate about sharing easy-to-follow Budgeting Tips and helping readers increase their financial literacy in the Financial Corner of the blog. You'll find great budgeting tips, Simplified Savings tips, and information that will help you improve your financial wellness sprinkled throughout each of her blogs.